Besides choosing which words to search for, you also need to think about the form in which you write them. For instance, if you want to find publications about democratisation studies, you might also be interested in publications with a different spelling of the word such as democratization (American English) or other endings of the word such as democracies (plural form) or democratic (adjective form). Instead of having to do several separate searches, you can use what is known as truncation. Enter the stem of the word and a truncation character, often an asterisk, like democra*, and you will retrieve all publications wherein the truncated word stem occurs, irrespective of ending.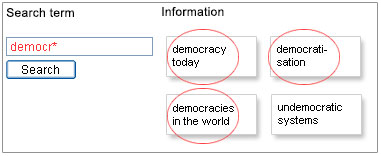 Illustration of search with truncation.
In many databases the truncation character can also be used at the beginning or in the middle of a word. When it is used in the middle of the word, it is usually called a wildcard.
The most common truncation character is the asterisk (*), but other characters might occur, such as the question mark (?). Sometimes, different characters are used depending on whether they are used in the middle or at the end of a word. Read the search help text of the database you are currently searching in to see which rules apply.
It might be good to know that GoogleScholar uses a form of automatic truncation. A search might retrieve hits on other variants of the word used in your search. However in the library's article databases, you usually have to truncate words in order to retrieve all variants.